Alex Soros, the son of left-wing billionaire George Soros and chairman of the board of directors for his father's Open Society Foundations network, drew a great deal of response from social media users this week after he posted a photo of him posing with Vice President Kamala Harris.
   "Great to catch up with Madame Vice President, @KamalaHarris!" Alex said on Twitter Tuesday afternoon, further solidifying his tight relationships with the most leftist politicians in the country.
   "NOTHING TO SEE HERE FOLKS!" Capital Research Center investigative researcher Parker Thayer noted in response.
   "It's laughable that the Left wants you to believe that the Soros family has no influence in politics," Sen. Marsha Blackburn (R-Tenn.) added.
   "Is it still offensive to say the Soros family has an outsize influence on Democratic politics," said political operative Logan Dobson.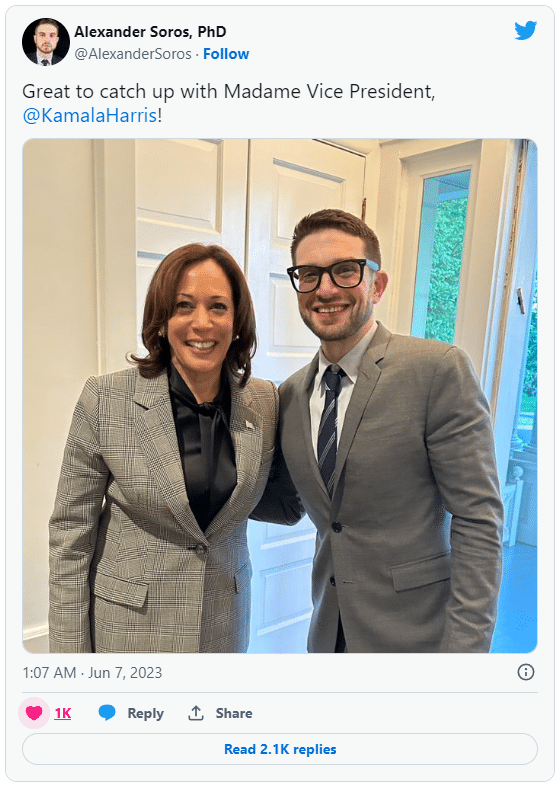 Alex Soros has frequented the Biden White House, according to a report published last week.
   Fox News reported that Democrat megadonor Alex has been to the White House at least 17 times, though it's not clear why.
   "The younger Soros, who chairs the board of directors for his father's Open Society Foundations network, has now visited the White House at least 17 times since 2021, according to a Fox News Digital review of visitor logs," the outlet reported.
   "Alex's most recent visits include three meetings between February 8th and 10th, records released Tuesday show. The visitor logs list Jon Finer, the principal deputy national security adviser; Jordan Finkelstein, special assistant to the president and the chief of staff for senior Biden adviser Anita Dunn; and Mariana Adame, the adviser to the counselor of the president, as the individuals who greeted Alex," the report continued.
   "It remains unclear precisely who Alex may have met with for the sessions, as the records can contain White House staff who book appointments, meet the guests and take them to other personnel," Fox News Digital added.
   In January, a White House official confirmed to Fox News Digital that Alex had made previous visits, including meetings with Ron Klain, Biden's former chief of staff, which were not documented in the records. OSF did not provide details about Alex's recent meetings, and the White House did not respond to inquiries regarding the matter.
   In addition to his previous 14 visits, the three most recent visits by Soros Jr. to the White House have drawn attention. While he has leveraged his connections with the Biden administration, Soros Jr. has also actively maintained close contact with Democratic lawmakers, a fact he frequently highlights and shares on social media platforms, Fox News added.
   On his Instagram account, there are numerous photos showcasing Alex's interactions with prominent Democrats in both the House and the Senate from 2018 to 2022. Among the Democrats he has frequently engaged with, Senate Majority Leader Chuck Schumer of New York stands out, with at least nine documented meetings. Additionally, Alex has had at least eight visits with then-House Speaker Nancy Pelosi of California.
   "Good to see majority leader [Schumer] earlier this week! Energized to elect at least two more Democratic senators so we can secure voting rights and a woman's right to choose!" Soros posted on his Instagram in July 2022, along with a photo of the two of them.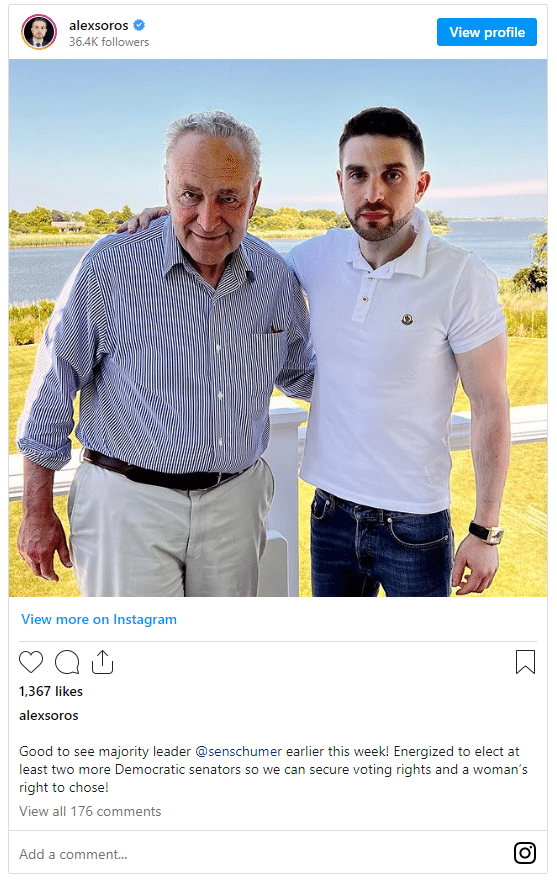 In a December 2021 post that contained a trio of photos of the two of them, Alex called Schumer his "good friend" and added that he had a "great meeting" with him at the Capitol.
   The son also took a picture with Pelosi at a White House state dinner for French President Emmanuel Macron in December.