The Florida judge overseeing former President Donald Trump's arraignment on Tuesday will not allow cameras, phones, or electronic devices into the Miami courtroom.
   "The ban was announced late on Monday by the chief judge for the Southern District of Florida, Cecilia M. Altonaga, as the time of the much-awaited appearance of the former president in court quickly approaches. Trump will be arraigned at a Miami court on Tuesday—an appearance that has posed an issue for many broadcasters and networks on how to cover the historic event," Newsweek reported.
   Altonaga wrote in the order that "on Tuesday, June 13, 2023, all cellular phones and/or electronic equipment are hereby prohibited for news reporters and other members of the media inside the Wilkie D. Ferguson, Jr. United States Courthouse in Miami."
   CBS News Congressional correspondent Scott MacFarlane wrote on Twitter: "There will be no photos. No video. No audio. And no journalists permitted to communicate to the outside world through phone devices (or thru any other technology) during the first-ever federal arraignment of a former US President."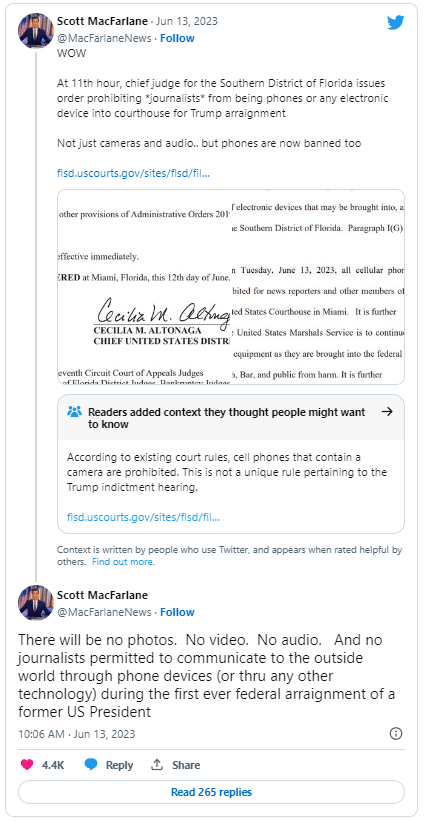 Special Counsel Jack Smith has charged Trump with 37 counts related to his handling of classified documents. If he is found guilty on all counts, Trump — who is President Joe Biden's chief rival in next year's presidential election — could face decades in prison.
   According to the indictment, Trump allegedly showed classified documents to a number of people who did not have the proper security clearances on at least two separate occasions. The DOJ alleges that both instances took place at Trump's golf club in Bedminster, N.J.
   Details regarding one of the alleged instances were leaked to CNN.
   The network reported on June 2 that federal prosecutors had "obtained an audio recording of a summer 2021 meeting in which former President Donald Trump acknowledges he held onto a classified Pentagon document about a potential attack on Iran, multiple sources told CNN, undercutting his argument that he declassified everything."
   Trump announced last Thursday that he had been indicted by the U.S. Department of Justice on charges connected to his handling of classified materials.
   The charges "include willful retention of national defense information, conspiracy to obstruct justice, withholding a document or record, corruptly concealing a document or record, concealing a document in a federal investigation, a scheme to conceal, and false statements and representations," ABC News reported.
   "Maximum sentences for the respective charges, per their statutes, range from five up to 20 years, although any eventual sentence should Trump be convicted would likely be much lower," the outlet added.
   "Any eventual sentence should Trump be convicted would likely be much lower," ABC noted in its report.
   Jeffrey Clark, who served as an assistant attorney general in the Trump administration, said that after reading through the 49-page indictment that there is something on page three that is troubling for the prosecution.
   Clark noted on Twitter that the leak to the media is grounds for having the case thrown out.
   "I'm beginning to read the indictment against Trump," he wrote. "But even three pages in, it's clear that the leaks that preceded the indictment are far too close to what is actually being pleaded by DOJ to be a coincidence."
   "For example, in paragraph 6a on page 3, we hear about the recording of the Bedminster call, which the MSNBC of the world has been beating a dead horse about for quite a while based on such leaks. This means that Trump lawyers could not possibly be the source of the leaks," Clark continued.
   "Ergo, the leaks are coming from DOJ," he said. "They must be investigated and punished. Also, this is grounds for granting a motion highlighting jury pool poisoning and dismissing the indictment before it reaches even its one-month birthday."
   He added: "All of this is so outrageous; it shocks the conscience. It's fundamentally anti-American. Trump Witch Hunt Number … what? I've lost count. Let's call it Trump Witch Hunt #99."