Popular Fox News host Greg Gutfeld shared big news this week when he revealed that he's thought about the idea of taking over the primetime slot that was previously held by Tucker Carlson, who was taken off the air by the network in late April.
   "Obviously, it's crossed my mind," Gutfeld told The Wall Street Journal in an interview published this week. "If I did 8 o'clock, I would definitely not do The Five, and I would no longer do Gutfeld! Those just happen to be the two most popular shows on Fox these days. I would just do one show because I would prepare for that show like crazy."
   Tom O'Connor, the executive producer for "Gutfeld," said he believes the host would be a perfect fit to take over the 8 PM prime time slot.
   "I think he could probably be successful in any of the timeslots," said O'Connor. "I mean, we were on at 3 in the morning East Coast time when we did 'Red Eye,' and people found us."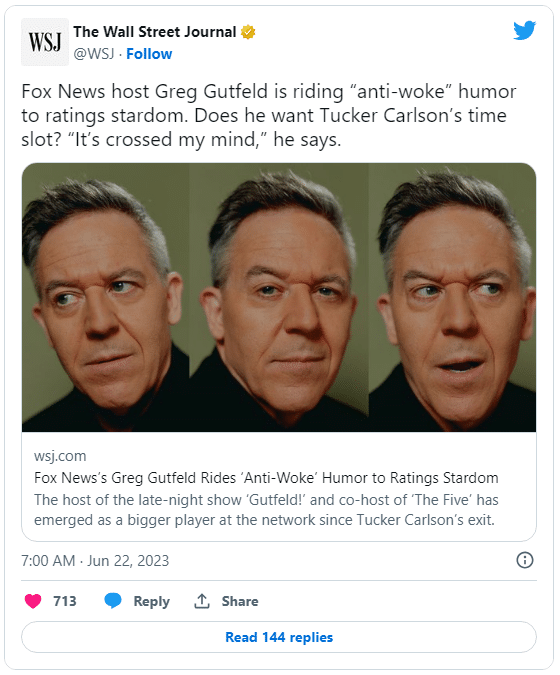 Fox News has faced a slew of backlash, negative headlines, and a significant rating drop since taking top-rated host Tucker Carlson off the air in late April.
   However, one Fox News personality has gotten a handful of good news in recent weeks.
   Popular co-host Greg Gutfeld announced a new book, both shows that he co-hosts — "The Five" and "Gutfeld!" — are dominating the cable news ratings, and he's reportedly being considered to take over a primetime slot on the network.
   Despite the fallout from ousting former top host Tucker Carlson, Fox News remained the most-watched network in all of the cable news in May.
   "The Five" was the highest-rated show on cable news with 2.6 million average total viewers and 267,000 average demo viewers. His late-night comedy show "Gutfeld!" was also in the top 5 for cable news.
   Below is a breakdown of the top 5 shows on cable news in May, all of which belong to Fox News:
   The Five – 2.63 million (276,000 in the 25-54 demographic)
   Jesse Watters Primetime – 2.14 million (194,000 demo)
   Hannity – 1.91 million (178,000 demo)
   Special Report with Bret Baier – 1.81 million (187,000 demo)
   Gutfeld! – 1.65 million (224,000 demo)
   The popular host announced a new book, titled, "The King of Late Night," which will be released July 25, and details how Gutfeld "destroyed the mainstream late-night landscape of heavyweights and became the host of the #1 late night show in all of television."
   Fox News has announced a slew of changes in recent weeks.
   Last week, the network announced that Steve Hilton's Sunday show in the 9 p.m. time slot has been canceled.
   Fox Business has canceled the long-running show "Kennedy," which airs at 7 p.m. ET. The network plans to air reruns of former Trump administration economist Larry Kudlow.
   The report said that Lisa Kennedy Montgomery will remain at Fox News, where she will be a recurring figure on "The Five," "Outnumbered," and other shows.
   Donald Trump Jr. has said he was warned by insiders at Fox News that network bosses were not happy with his criticism following the sudden firing of top-rated host Tucker Carlson in late April.
   The former president's oldest son says he was told to "expect retaliation" after ripping the firing as unwise and accusing top executives of "censorship." He went on to say that he also has not been invited onto the network in nearly nine months, the report noted.
   "I've been watching the censorship happening even in conservative mainstream media," Don Jr. said on the Steak for Breakfast podcast. "I mean, you saw what sort of Fox did to Tucker Carlson, last week, and the week before that, it was Dan Bongino and, you know, the people who would actually question some of that narrative."