Rep. Jim Jordan, a Republican Congressman representing Ohio, recently made headlines when he released what he referred to as "smoking-gun" evidence uncovering the alleged collaboration between the Biden White House and Facebook to suppress Americans' freedom of speech. This contentious issue has sparked debates and discussions across the nation.
   Unfortunately, a scheduled meeting within the House Judiciary Committee, of which Jordan is the chairman, to consider holding Facebook's CEO, Mark Zuckerberg, in contempt of Congress was canceled, leaving some frustrated by the lack of immediate action.
   On July 27, Jordan shared his findings to Twitter, which were based on never-before-released internal documents obtained through a subpoena by the Judiciary Committee. According to his tweets, these documents purportedly demonstrate that Facebook and its subsidiary Instagram engaged in content censorship and altered their content moderation policies under pressure from the Biden White House. Such actions, if proven true, could raise significant constitutional concerns about government interference in private entities' content policies and citizens' right to free expression.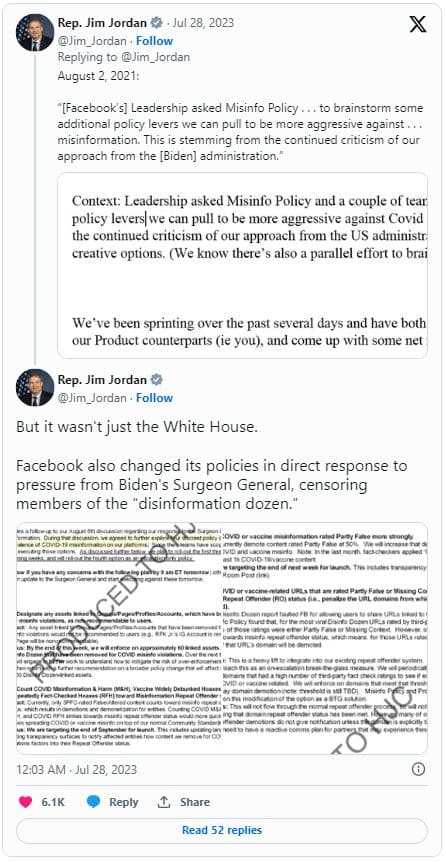 The first half of 2021 witnessed what Jordan characterized as "tremendous pressure from the Biden White House" on major tech platforms to censor any content deemed "misinformation" by the administration. To illustrate this pressure, Jordan shared a screenshot of an email exchange involving Zuckerberg and the then-Facebook COO, Sheryl Sandberg, wherein the White House's ongoing demands for content removal were emphasized.
   In one intriguing instance detailed in the documents, Biden's Senior Advisor, Andy Slavitt, reportedly expressed outrage when Facebook failed to remove a specific post. According to an email from Facebook's current president for global affairs, Sir Nick Clegg, this post was nothing but a meme about COVID-19 vaccines.
   Interestingly, Clegg raised concerns that such censorship could encroach upon the traditional boundaries of free expression in the United States. However, Slavitt's apparent disregard for such constitutional implications, as claimed by Jordan, raised eyebrows about the potential extent of government influence on private content decisions.
   Jordan further pointed out that Facebook, feeling the heat from the White House, reacted with panic to the demands for content censorship. The Biden administration's discontent with the lack of action on specific content wasn't an isolated incident. The White House even inquired why a video involving Tucker Carlson hadn't been censored. To address this, Clegg prepared talking points that asserted Facebook had taken action, demoting the video as per the White House's demands, despite the content not violating any policies.
   Such instances of what Jordan termed "blatantly anti-constitutional censorship" intensified concerns about the implications for free speech in the digital age.
   On August 2, 2021, Facebook reportedly acknowledged that it intended to alter its content policies due to the pressure applied by the Biden White House. Leadership within the company requested its "Misinfo Policy" team to brainstorm additional policy measures that could be employed to be more aggressive in combating what the administration considered "misinformation." This acknowledgment, as noted by Jordan, reinforced the perception of the administration's influence on private content moderation decisions.
   Jordan concluded that the documents, along with others recently produced for the Committee, painted a picture of the Biden administration leveraging its powers to coerce Facebook into censoring Americans, thereby impeding free and open discussions on critical public issues. The gravity of these allegations and the potential implications on freedom of speech and democracy itself raised concerns among citizens and policymakers alike.
   While Jordan's efforts to expose this information were lauded by some, there was also a sense of disappointment among those who felt that he had momentarily retreated from pursuing a vote to hold Zuckerberg in contempt of Congress after finally obtaining these revelatory documents. Some critics argued that the timing and nature of Facebook's responses, including the controversial censorship of Hunter Biden scandals after alleged FBI involvement, warranted a stronger stance and more accountability from the social media giant's leadership.
   The issue of "Zuckerbucks," a term referring to Zuckerberg's involvement in election funding, further fueled the perception of serious allegations of election interference against him. A Media Research Center poll suggests that Facebook's actions could have potentially swayed the 2020 presidential election in favor of Joe Biden. This raised a multitude of questions about the role of big tech companies in the democratic process and the potential ramifications on the nation's political landscape.