Republican Georgia Governor Brian Kemp responded to former President Donald Trump's statement on "Presidential Election Fraud" by claiming that his state's 2020 election was not rigged.
   "The 2020 election in Georgia was not stolen. For nearly three years now, anyone with evidence of fraud has failed to come forward – under oath – and prove anything in a court of law. Our elections in Georgia are secure, accessible, and fair and will continue to be as long as I am governor. The future of our country is at stake in 2024 and that must be our focus," said Kemp on X, formerly Twitter.
   Kemp predicted in July that Trump would lose Georgia if he received the Republican presidential nomination and continued to emphasize his claims of a rigged election.
   "Quit looking back at the 2020 election. I mean, for goodness sakes, that was two-and-a-half, three years ago now," Kemp said. "The American people want to know what are you gonna do for me to help me offset the bad policies of Joe Biden."
   "I think if he continues to do that, he's gonna lose Georgia in November," Kemp said of Trump.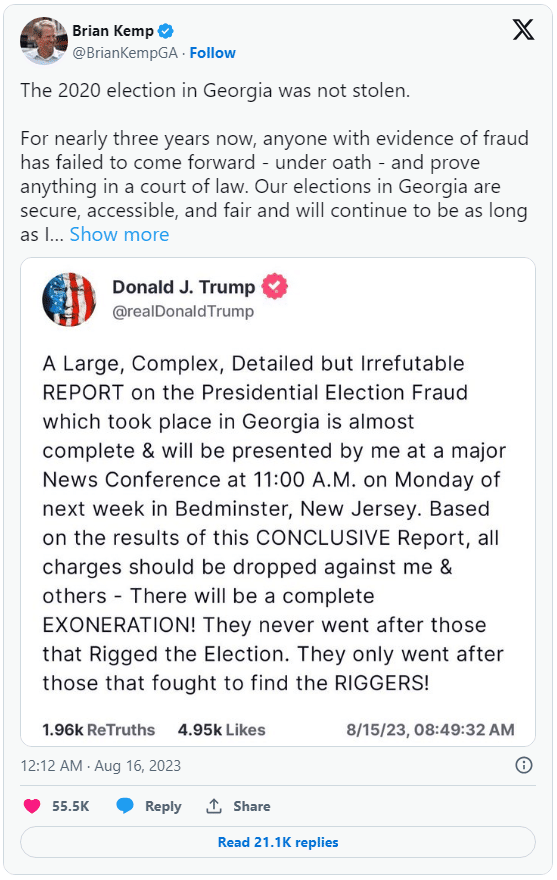 Earlier this week, the Trump campaign criticized Fulton County District Attorney Fani Willis and other prosecutors over his indictment related to allegations that he attempted to invalidate the state's 2020 election results.
   The Trump campaign mocked Willis as a "rabid partisan who is campaigning and raising money on a platform of prosecuting President Trump through these bogus indictments" in a statement that was not attributed to a specific spokesperson.
   "Ripping a page from Crooked Joe Biden's playbook, Willis has strategically stalled her investigation to try and maximally interfere with the 2024 presidential race and damage the dominant Trump campaign. All of these corrupt Democrat attempts will fail," the campaign said in a statement.
   Trump and his allies have accused Willis and others of engaging in "election interference" aimed at hurting his 2024 presidential campaign.
   "These activities by Democrat leaders constitute a grave threat to American democracy and are direct attempts to deprive the American people of their rightful choice to cast their vote for President," the campaign statement said. "Call it election interference or election manipulation—it is a dangerous effort by the ruling class to suppress the choice of the people. It is un-American and wrong."
   Willis, who is prosecuting former President Donald Trump and others, got some bad news on Tuesday from a former federal prosecutor.
   Former federal prosecutor Jennifer Rodgers said on CNN on Tuesday, hours after the indictment, that she will probably not get what she wants. The DA has set an ambitious goal of going to trial in the case against the former president and 18 others within six months.
   "Back in 2022 just last year, she brought a case against a rapper and several others. What does that tell you about the timing of this case and how quickly or slowly it might be able to come to trial?" CNN anchor Sara Sidner said to the former prosecutor.
   "Fani Willis has a lot of experience with RICO throughout her prosecutorial career, so she knows what she's doing in this regard. But going back to the Young Thug case, it's still in jury selection. I mean months and months just in jury selection," she said.
   According to a report by The Messenger, "at least part" of the indictment "may be televised."
   Trump has stated that he will not be accepting any kind of plea deal in relation to his current indictments.
   At the Iowa State Fair, Trump was asked about reports that he will be indicted in Fulton County, Georgia, and he delivered a fiery message to District Attorney Fani Willis, Mediaite reported.
   "Is there any chance you take a plea deal in Georgia?" a reporter asked Trump.
   "We did nothing wrong. We don't ever take a plea deal. We don't take plea deals. It's a wise guy question. You're just a wise guy. "We don't take plea deals because I did nothing wrong. It's called election interference," Trump said.