Former President Donald Trump was unbanned from Twitter by CEO Elon Musk months ago, but had refrained from posting on the newly renamed platform "X" — until Thursday night.
   After his arrest and booking in Fulton County, Georgia, on racketeering charges related to alleged attempts to overturn the 2020 election results, Trump cracked open his X account with a post containing his official mug shot and the words:
MUG SHOT — AUGUST 24, 2023
ELECTION INTERFERENCE
NEVER SURRENDER!
DONALDJTRUMP.COM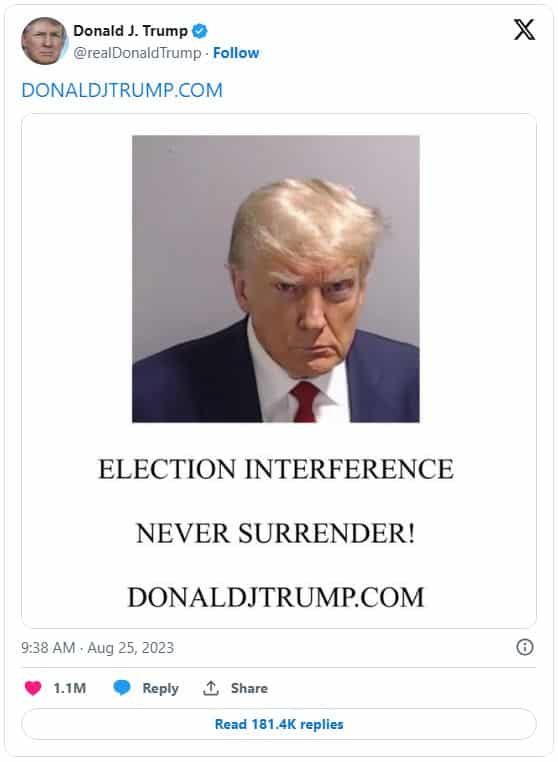 Trump still has more than 86 million followers on X, tens of millions more than his 6.8 million followers on his Truth Social platform.
   It's not clear that Trump will continue to tweet, but the fact that he finally posted on the legacy platform may be a sign he is ready to begin reaching far more people than otherwise on Truth Social as his legal troubles continue to mount.
   Trump sent out a dire statement to supporters amid his historic booking at Georgia's "notoriously violent" Fulton County Jail, where his historic mugshot was taken.
   "This is my last text to you before my arrest, Patriot. I hope you'll read my personal note," read a text from the Trump 2024 campaign on Thursday evening.
   "Today, I will be going to the notoriously violent jail in Fulton County, Georgia where I will be ARRESTED despite having committed NO CRIME. Isn't it interesting that I went my entire life without ever getting arrested. But suddenly out of nowhere, once I decided to run for president as a political outsider and fight for the forgotten citizens of our country, I get ARRESTED FOUR TIMES within the span of just 5 months?" the text message began.
   "Not only that, a judge has ruled that today's spectacle may be televised for the entire world to see. The American people know what's going on. This is a punishment handed down from the Deep State for daring to challenge the status quo and give a voice to the Silent Majority. The Left wants to intimidate YOU out of voting for a political outsider who puts the American people FIRST. But today, I'm walking into the lion's den with one simple message on behalf of our entire movement: I WILL NEVER SURRENDER OUR MISSION TO SAVE AMERICA," the message continued.
   "When I walk into the jail to get wrongfully arrested, I will not cower, I will not sulk. I will stand tall and remain resolute in our mission to save America. And if you see me on TV during my sham arrest, just remember that YOU are the source of my courage, my hope, and my resolve to save our country," it added.
   The message concluded: "If you are doing poorly due to the sinister people in control of our country right now, don't even think about donating! But if you can, please make a contribution to SAVE AMERICA during this dark chapter in our nation's history."
   Trump and his allies have repeatedly accused Willis and other far-left Democrat prosecutors of engaging in "election interference" aimed at hurting his 2024 presidential campaign.
   "These activities by Democrat leaders constitute a grave threat to American democracy and are direct attempts to deprive the American people of their rightful choice to cast their vote for President," the campaign statement said. "Call it election interference or election manipulation—it is a dangerous effort by the ruling class to suppress the choice of the people. It is un-American and wrong."
   Willis has set an ambitious goal of going to trial in the case against the former president and 18 others within six months. But a former federal prosecutor said earlier this month that's unlikely to happen.
   "Back in 2022 just last year, she brought a case against a rapper and several others. What does that tell you about the timing of this case and how quickly or slowly it might be able to come to trial?" CNN anchor Sara Sidner said to the former prosecutor.
   "Fani Willis has a lot of experience with RICO throughout her prosecutorial career, so she knows what she's doing in this regard. But going back to the Young Thug case, it's still in jury selection. I mean months and months just in jury selection," she said.