An American citizen is praising Donald Trump for assistance provided by the former president to get him and his wife out of war-torn Israel.
   Yitz Friedman, with the Washington-based American Accountability Foundation, was in Israel over the weekend as Hamas launched a surprise attack involving thousands of rockets that killed more than 1,000 people, including 11 Americans.
   "I would like to thank President Trump. After days of fear and anxiety in Israel, I am finally on my way home to the US. Almost every airline canceled all flights, including our flight home," Friedman posted on the X platform Tuesday.
   The Times of Israel reported that enemy rockets had landed near Ben Gurion Airport in Tel Aviv.
   "We [weren't] sure what to do," Friedman recounted. "Luckily, one [of] the few airlines still running flights is Emirates. My wife and I just flew from Tel Aviv – passing three or four armed military checkpoints to get to the airport – and are now safe in Dubai waiting for our connecting flight to the US."
   Friedman went on to explain how the former president made a flight to the United Arab Emirates possible via the Abraham Accords, which were a historic peace agreement under which Israel and the UAE agreed to normalize relations between the two countries.
   "If not for the Trump-Abraham Accords, this would be unthinkable. There would be no flights from Israel to the UAE," Friedman added in his post. "To be able to fly to a friendly Arab country when even American flights won't dare, at a time of war, is miraculous."
   "Thanks to Trump's efforts, thousands of American citizens have a way home from a very dangerous situation. Even as it seems the Middle East is imploding, this historic peace agreement is making things a little better," he noted in conclusion.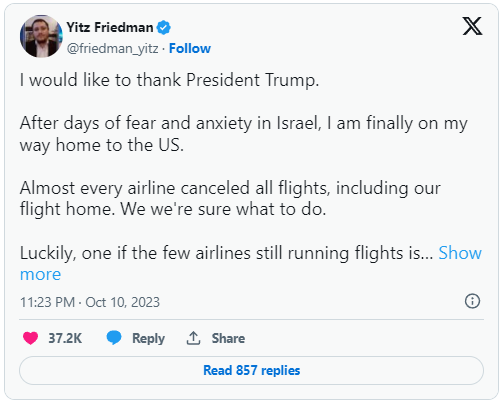 In August 2020, when Trump was still president, the U.S. Embassy in Jerusalem posted photos of the first flight fro Israel to the UAE.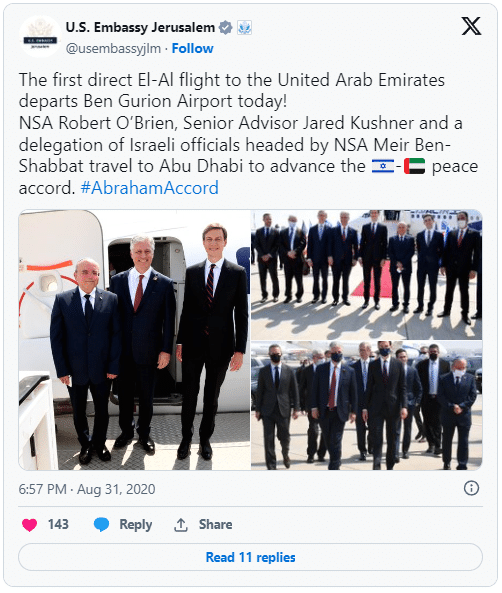 "The U.S. representatives in the delegation included National Security Advisor Robert O'Brien and Trump senior White House advisor Jared Kushner, who made the flight along with Israeli officials," the Western Journal reported.
   "The next month, Trump, Israeli Prime Minister Benjamin Netanyahu, Bahrain Minister of Foreign Affairs Abdullatif bin Rashid Al-Zayani and UAE Minister of Foreign Affairs Abdullah bin Zayed Al Nahyanisigns signed the Abraham Accords at the White House," the outlet added.
   On Tuesday, Trump reminded followers on his Truth Social platform that his administration brokered the historic peace deal and that he would be able to replicate similar deals if he wins the presidential election next year.
   "I KEPT ISRAEL SAFE! NOBODY ELSE WILL, NOBODY ELSE CAN, AND I KNOW ALL OF THE PLAYERS!!!" he wrote.
   On Monday during a campaign stop in Wolfeboro, New Hampshire, Trump added, "When I was your president, we had peace through strength, and now we have weakness, conflict, and chaos. The atrocities we're witnessing in Israel would never have happened if I was president."
   The Trump administration's list of accomplishments in the Middle East during his four-year term included:
Recognized Jerusalem as the true capital of Israel and quickly moved the American Embassy in Israel to Jerusalem
Acknowledged Israel's sovereignty over the Golan Heights and declared that Israeli settlements in the West Bank are not inconsistent with international law
Removed the United States from the United Nations Human Rights Council due to the group's blatant anti-Israel bias
Brokered historic peace agreements between Israel and Arab-Muslim countries, including the United Arab Emirates, the Kingdom of Bahrain, and Sudan
Brokered a deal for Kosovo to normalize ties and establish diplomatic relations with Israel
Announced that Serbia would move its embassy in Israel to Jerusalem
First American president to address an assembly of leaders from more than 50 Muslim nations, reaching an agreement to fight terrorism in all its forms
Established the Etidal Center to combat terrorism in the Middle East in conjunction with the Saudi Arabian government
Announced the Vision for Peace Political Plan—a two-state solution that resolves the risks of Palestinian statehood to Israel's security, marking the first time Israel has agreed to a map and a Palestinian state
Released an economic plan to empower the Palestinian people and enhance Palestinian governance through historic private investment