House Judiciary Committee Chairman Jim Jordan (R-Ohio) on Monday grew closer to the requisite number of votes he will need to become the next Speaker after a key Republican who previously said he would not offer support changed his mind over the weekend.
   Rep. Mike Rogers (R-Ala.) indicated last week that he wouldn't support Jordan under any circumstances, according to local media reports, but he said he changed his mind after having a number of thoughtful conversations with the Ohio Republican.
   As of Monday, however, reports indicated that Jordan is still around 15 to 19 votes short of the 217 needed to take the gavel. A vote is being scheduled for Tuesday, though Jordan said early Monday he believes the chamber will elect a Speaker during that crucial vote.
   However, there are other efforts afoot to deny Jordan the speakership, Newsmax reported:
   On Saturday, four centrist Democrats in the bipartisan Problem Solvers Caucus — Reps. Josh Gottheimer of New Jersey, Ed Case of Hawaii, Susie Lee of Nevada, and Jared Golden of Maine — wrote a letter to Speaker Pro Tempore Patrick McHenry, R-N.C., saying they would back him as temporary speaker in 15-day increments.
   Under their proposal, the House would be able to proceed on such measures as aid to Israel and funding the federal government after the continuing resolution runs out next month.
   Such "coalition speakers" have been executed in several state legislatures over the past half-century, among them Connecticut, California, and New Jersey.
   But most Republicans dismissed that idea, Newsmax added.
   And support from Rogers, who is seen as closer to a moderate, is key.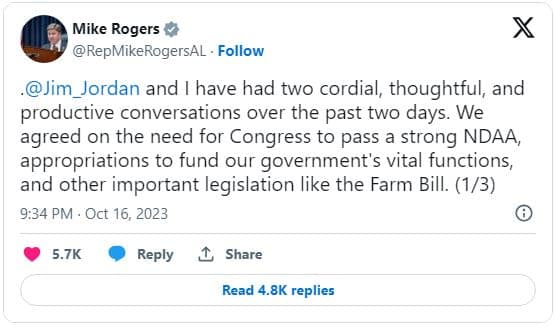 "@Jim_Jordan and I have had two cordial, thoughtful, and productive conversations over the past two days. We agreed on the need for Congress to pass a strong NDAA, appropriations to fund our government's vital functions, and other important legislation like the Farm Bill," Rogers began in a post to the X platform.
   "As a result, I have decided to support Jim Jordan for Speaker of the House on the floor," he continued. "Since I was first elected to the House, I have always been a team player and supported what the majority of the Republican Conference agrees to. Together, our Republican majority will be stronger to fight Joe Biden's reckless agenda for America."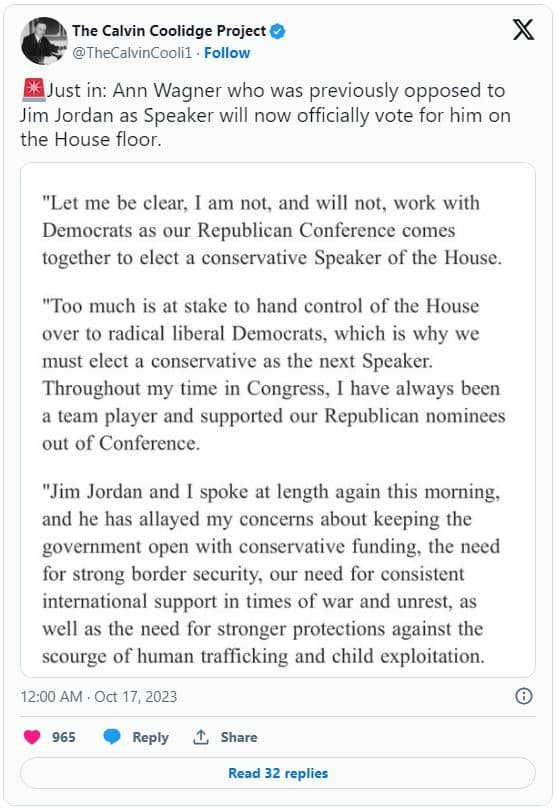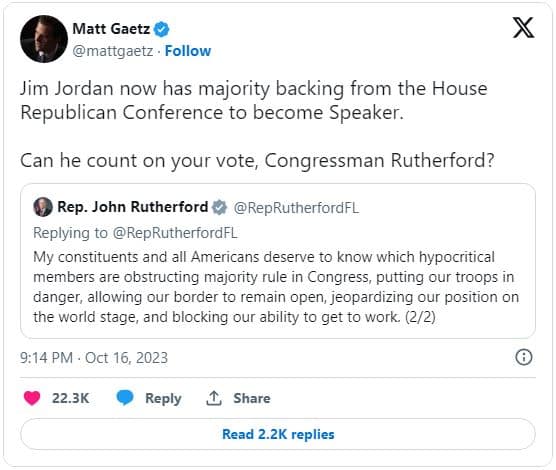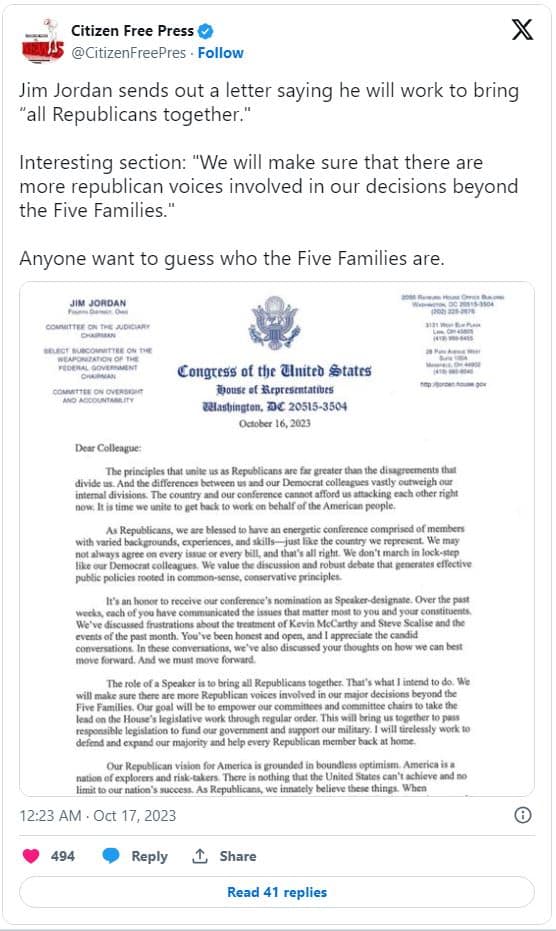 Last week, after he threw his hat into the ring to become Speaker, Jordan revealed that one of his first official acts would be to ensure that Israel has all it needs in its war against Hamas.
   "Sunday Morning Futures" anchor Maria Bartiromo told the Ohio Republican during a show segment, "Tell me what your first directive would be as speaker," to which he responded, "To help the state of Israel."
   "There will be some resolution on the floor to support the state of Israel," Jordan continued, adding that he planned to consult with House Foreign Affairs Chairman Michael McCaul (R-TX) and the Senate.
   "We will work with the State Department and the White House," Jordan continued. "But that is something that I think gets bipartisan, bicameral, full support from the United States government because, again, this is our great friend and great ally, the state of Israel."
   "We need to give Israel the time, the space, the resources so that they can win and win decisively and send a message to these evil people who did this to" Israel, Jordan added.
   "There is a special bond between the state of Israel and the American people," Jordan said. "We need to make sure we continue that and help them win this as quickly as possible."
   "We need to make sure that they have what they need to win and send a message to stop this kind of ridiculous stuff and take action against these people who are doing these terrible things," said Jordan.