Democratic Gov. Andy Beshear faced off against Republican Attorney General Daniel Cameron on Tuesday night in the closely-watched gubernatorial race.
   Beshear won re-election, as per Cook Political Report analyst Dave Wasserman.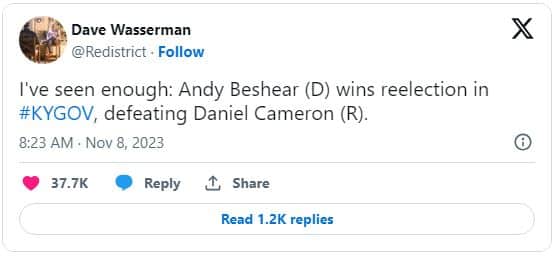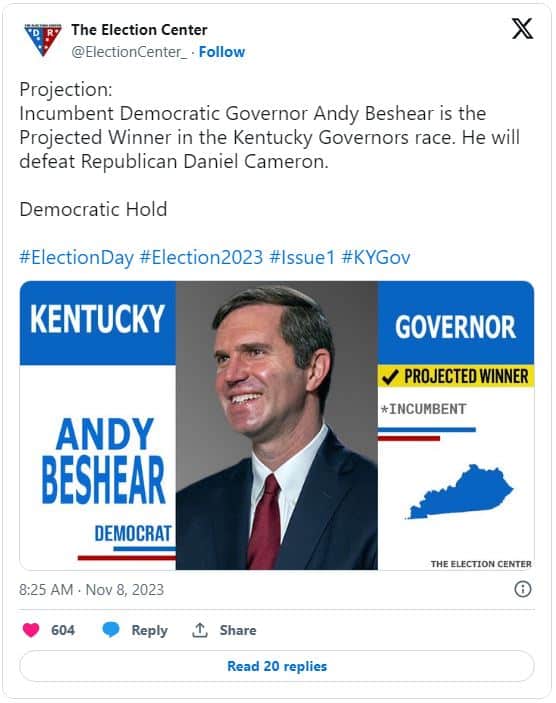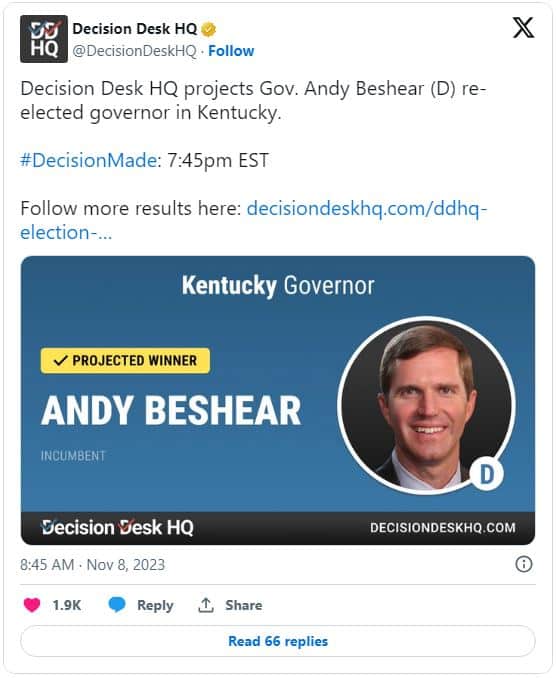 Prior polling showed that Cameron, who was endorsed by former President Donald Trump, was in a dead heat with Beshear.
   "The poll shows what we've known all along is that Andy Beshear is deeply unpopular because he has endorsed Joe Biden for president," Cameron said when asked about recent polling showing him either gaining on or tied with Beshear. "He shut down our schools. He shut down our churches. He shut down our small businesses. He refused to protect women's sports from biological males."
   "No one in Kentucky wants a governor here in this commonwealth that openly endorses Joe Biden and does all those things I just mentioned. They want leadership that reflects their values."
   "I mean, inflation is crushing the purchasing power of people. It's harder and more expensive to buy groceries, more expensive to buy gas. Your utility bill has gone through the roof, yet Andy Beshear embraces and endorses the very president that has gotten us into this economic disaster," he said.
   "Donald Trump said it pretty well the other day when he endorsed this campaign. He said, 'Andy Beshear has been an absolute disaster.' I agree with that wholeheartedly."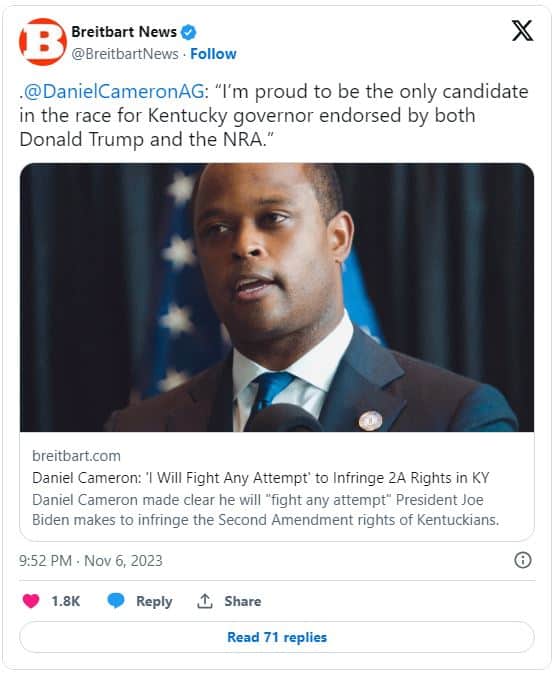 Trump gave Cameron his first endorsement in the contest last year, and he has since reaffirmed his support ever since Cameron emerged victorious in a crowded Republican primary. As the former president continues to outperform his rivals in the GOP presidential primary, Cameron has increasingly returned the favor.
   In a departure from the party's messaging regarding voting in 2020 and 2022, Cameron also urged his supporters to take advantage of early voting, which is something that Democrats usually use more extensively.
   "It's important that we get all commonsense conservatives and Kentuckians who want strong, commonsense leadership to the polls. And, so, whether it's today or tomorrow or Tuesday, let's get to the polls. Let's send a message to the nation that we care about our values, and we do not want the far-left ideology making its way here in Kentucky," Cameron said.
   In a video statement released last week, Trump strengthened his support for Cameron.
   "Beshear has been a disaster for Kentucky. He endorsed Crooked Joe Biden, which, in itself, is about as bad as it gets," Trump said in the video, which was released Tuesday by Bluegrass Freedom Action, a political action committee supporting Cameron.
   Additionally, he praised Cameron for being "strong and reliable" in his conservative beliefs, citing his support for law enforcement, his proposal to help students make up for learning lost due to COVID-19, and his opposition to transgender girls playing sports to the fullest extent as examples.
   "He will eliminate Kentucky's income tax and will support the working men and women of Kentucky, just like I did for four straight years," Trump said.
   "Beshear's weak on crime and the Second Amendment. He's not doing the protection it needs. They want to get rid of the Second Amendment. The Democrats are fighting hard to do that, and Beshear wants to help them," Trump said.
   Trump, who easily won Kentucky in 2016 and 2020, remains popular in the state.